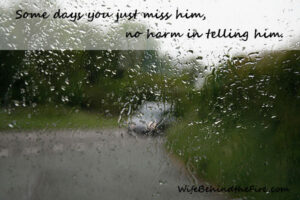 Last Thursday was just one of those days. A day I didn't want to do anything. It was too much energy to get out of bed.
Why am I writing about it? I'm loud and opinionated. As such I end up having a lot of people think I've got it all together, all the time. Since I'm 40, I think I've just gotten to be really good at faking it until I make it. A lot of days I do feel like I've got it together, but not always.
As you can guess, Thursday was a shift day. It was rainy and windy, total yuck. I had gotten at max, 2 hours of sleep. Why no sleep? Absolutely no reason. I can't even blame it on too much caffeine. My diet was spot on the day before. It wasn't that my brain was overloaded with things either. I just couldn't sleep.
Even with barely any sleep, the boy still needed to get to school. I did errands right away after dropping him off. Tried a nap but again couldn't sleep.
My list of things to get done around here, the house and my other sites was so long. I'd made a big list in hopes that may have been on my brain and writing it down would fix it. I had really been looking forward to getting caught up. Alas, not going to happen and I didn't feel overloaded by my huge list. I felt worse than overloaded, I just felt bleh.
I hate feeling bleh. I know the weather has a lot to do with it. My Mom has the seasonal disorder and I'm sure I do as well. Giant intake of vitamin D has helped with that but there are just days it doesn't work. We're just getting into real weather here in the Seattle area and maybe I'm in an adjustment period? Or maybe I'm just searching way too hard for a reason that's never going to show up.
I know weeks on end of running and no date night in ages doesn't help. Lots of life stuff on top of our heads and no time to get away for a weekend or even a night. THAT is definitely a side effect of overload. However, it just didn't feel like that.
There are very few days when I really, really wish hubby didn't work 24's. I mean very few. I have him home most nights of the month and there are many days we see too much of each other and I need the space so I can get work done. Last Thursday was one of those few days I wanted him home. Sure there are always days I wish he was home but not to the point where it takes everything I've got not to make an excuse up so he has to come home.
No, I would never do that. I'm horrible at lies so I don't even try.
But I did send him a joking text saying I was over his being at work and he could come home. Let's just snuggle up and watch movies for the rest of the day. It was truly all I had the energy to do and even that was more energy than I wanted to spend.
Hopefully I didn't make him feel bad for not being home. I know he would have rather been home as well. Drill was out in the nasty wind and rain. I'm scheduling this ahead so I'm not sure how drill went yet. While the purpose of my text was definitely not to make him feel bad, how can I go wrong letting him know that I really miss him? I can't find anything wrong with letting someone know they are missed and every once in a while, just how much.
Sometimes being strong just gets to be too much. Maybe he needed to hear it and that's why I was having that kind of day. I know it had been a long while since I'd said how much I miss him. So I'm going with that. Basically, I just turned it around that it's his fault I'm having a bleh day. He needed me to have it so he could feel more loved. Already feeling better 😉
What do you do on a bleh day? Go with it? Fight it?