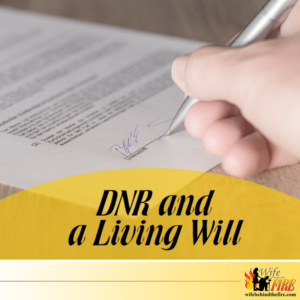 One of the ladies in our private group is a nurse and codes were brought not too long ago. It specifically came up because the gentleman didn't have a living will and his family hadn't talked to him about his last wishes.
I'm quite open with my last wishes. Everyone has been told I don't want to be left a vegetable and I don't want to be a burden. I do not want to be kept alive on machines if there is no hope of coming off of them. I want every piece of me donated that they can possibly take. I'm also very clear about wanting to be cremated and the party that they should have after.
But having my family know that and them following through may be two different things. I witnessed that with my Grandma's passing. She had a DNR yet somehow when the medics got there she ended up being resuscitated. I have no idea on the particulars, nor did my dad and I care to find out. She lived with my Aunt so who knows what was decided or changed. I just knew from talking to my Dad that her laying there on all those tubes was exactly what she didn't want.
She was not happy any time she woke up and couldn't talk. I didn't blame her! That is the worst nightmare for me. She was dying from kidney failure due to her cancer. While I'm glad that the DNR wasn't followed because it gave all of us a chance to tell her goodbye, it was not the way she'd expressed going.
After a day of this, I found I had to be the adult and step in. My dad's the oldest and I'm his oldest. She was declining quickly, angry and not awake much anymore. I told Dad that he needed to get his brother and sister together and remember that this was not Grandma's wishes. Even though they knew her wishes, they wouldn't have made the move without the push. They just couldn't do it on their own.
I say all this because I understand that this is what grief can do. It can force you to make decisions based on your emotions and not the needs and wants of your loved one. This is why I know it's important to get things down in writing even though I haven't. While everyone knows my wishes, if it ever came down to it, I can't guarantee that they would be able to follow through on those wishes.
Unfortunately, hubby just doesn't talk about this stuff. Well hell, what do guys talk about unless you ask? But I've never point blank asked his wishes and that's not smart of me. Since he's the one standing out there in harms way on MVA's countless times a year, this is important stuff.
Now that my surgery is over and I'm recovered, it's time to get affairs in order. Should have been done prior to surgery you say? Yes, it's true. But unfortunately I was freaking out enough about surgery and I couldn't do it. Irresponsible? Possibly.
We don't have an attorney and I'm not so sure you really need to do this through one. I guess that would depend on how much you are willing to spend. You can create a document and then follow your state's rules for authorizing a document. TotalLegal.com has directions on that. In my state, it requires getting the document notarized. In this case, I wouldn't go to our friend that's a notary so there aren't any issues at all.
While that option is free, there is also Quicken WillMaker Plus 2014
and it has quite a few different forms that are useful. All for only $50. We can get documents notarized for free at our bank so that makes the program a really easy fix and no excuses.
Please be aware that every state has different laws. I've heard that the Quicken program walks you through what your state requirements are. But it's always good to double check on your own as well.
I almost forgot an important program. Wills for Heroes is an organization that is available in a majority of states. I'm really surprised they are not in Washington somewhere and I'd love to help them fix that in any way I can.