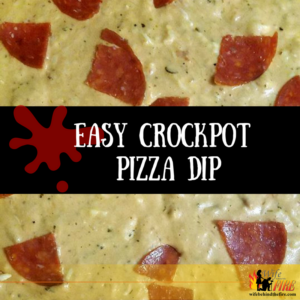 We all know crockpot meals are SO popular these days. They are easy for busy families like fire families – minimal work involved as well as minimal cleanup. One of my favorite reasons to choose a crockpot recipe over making something in the oven or stovetop is because it travels so easily! Even if I start a recipe at home and it's not quite done before it's time to leave, I can bring the crockpot along and let it continue to cook when we arrive at our destination. We like to travel a lot to friends' houses this time of year to watch football games, especially after the first of the year for the Super Bowl. This Easy Crockpot Pizza Dip is one of my favorite dishes to take to sporting event
This Easy Crockpot Pizza Dip is one of my favorite dishes to take to sporting event potlucks or have on hand when we have friends at our house. Just about everyone likes pizza – from kids to adults, so it always seems to be a hit. I have this recipe wrote out in a size that is good for a small gathering. If you'd like to scale it back for just your family it's easy to cut this down in half or into a third for a smaller portion.
Easy Crockpot Pizza Dip
3 – 14oz jars of pizza sauce
1 cup of quartered pepperoni slices
3 tsp Italian seasoning
2 cups of Parmesan cheese
3 cups of Mozzarella cheese
3 – 8oz blocks of cream cheese (softened)
If you want to make this recipe super easy, just throw everything in your crockpot on high for about an hour, or until everything is melted and mixed. I like to throw everything but the sauce in a mixing bowl and mix it all together to combine the seasonings, pepperoni, and cheeses together. I reserve a handful of pepperoni pieces to throw on top of the dip the last few minutes of cooking for aesthetic purposes. I then dump the pizza sauce in the crockpot first, and then put the cheese mixture in on top of that. I do also like to give the mixture a couple stirs throughout the cook time just to make sure everything is combined really well.
I like to serve this dip with cubed French or Italian bread usually. If you want a lighter option tortilla chips work well with this as well. I'm sure crackers or pretzels would work wonderfully too, but I haven't tried those first hand.
Most families these days have at least one crockpot in their home, but for those that don't, it's very helpful that most crockpot meals can easily be made in a conventional oven. They are just so versatile! If you would like to try a crockpot recipe you've seen here on Wife Behind the Fire, or anywhere else online recently but don't own one, it's very easy to adjust cooking times. Over the years I've found the following adjustments to hold pretty true for most recipes I have used alternative cooking methods with.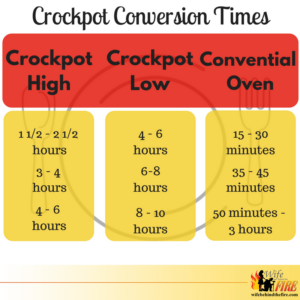 What is your favorite dish to travel with? Do you cook it in the crockpot? Have you converted a crockpot recipe to a conventional oven or vice versa? I'd love to hear how you adapt meals to fit your family and lifestyle.