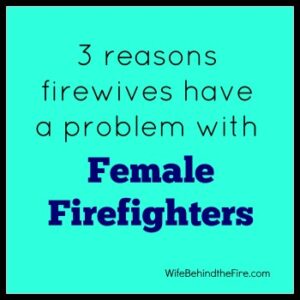 I've found 3 main reasons that firewives have issues with women firefighters. Incompetency, worry about sexual harassment and jealousy. Hold on while I try not to rant. This is a hot button for me and only getting hotter by the day.
Incompetent female firefighters
We've all heard stories of female firefighters getting special treatment. Hell you may have first hand experience of how incompetent a female firefighter is. I am not going to lie and say some aren't incompetent.
But, for every female firefighter that is incompetent at their job, there are many more males the same. It is not a gender thing. Women CAN do the job and many of them do it better than the average male. They have to make up for the stigma of working in a male dominated job.
If you are worried that the female firefighter won't be able to help your firefighter, let me tell you a story.
My firefighter was the biggest guy at academy at 6'4″ 260. I married a lineman lol He became good friends with the female firefighter at academy, around 5'8″ 165. (oh shit, friends? How could I let that happen? Read below for that)
At family day on graduation weekend, they set up a good show and one I've obviously never forgotten. She carried him down the ladder 3 stories. I was not told ahead of time. Yes, my heart was in my throat even though I knew they wouldn't do this in front of all of us if it wasn't safe.
Women CAN do the job.
Sexual harassment in the dept
Now this one was a surprise to me. I'm surprised it's still an issue. This is 2014, not 1980.
I've told all of the men in my life to protect their own asses at all costs, at all times. If someone is inappropriate to them they should document. Doesn't mean file a complaint, but document if you feel there will be issues with a certain person.
Never be alone with females unless you can't help it. Just don't put yourself in situations that should be an issue. Women have been in mens jobs for a century now and vice-versa. If the worry is a complaint being filed then someone should be talking to the dept because what put that idea into your head?
My FF worked construction before being hired on so there were few women in that trade as well. It's never been an issue or a thought in the fire dept. He's not the "smack you on the ass" kinda guy so maybe that helps? lol
Jealousy
Holy crap, this one is a long one and I'm going to just touch on this. I'll post more at another time. I don't want you to tune out.
Volunteer or paid, being a firefighter can take them away from home a lot. It's second nature to have pings of jealousy if you hear a female's name being mentioned quite often. I had to get over that myself. I wasn't used to hearing him talk about another woman so much lol Luckily it clicked quick and I could think of how much I've talked about the guys I've worked with over the years. DING DING DING get over it lady.
If you are worried about female firefighters taking your man, then you need to sit down quickly and do some evaluating. Either you have some issues in your head to work through or you have doubt in your marriage. Women don't take men away from their families. Men choose to cheat.
Remember me talking about that woman above that carried him down the ladder at academy? Boy did she help me get over myself quick.
Hubby would come home from academy and talk non-stop about her. He talked about the guys too of course but her name was the one that would stick with me lol He lived at the academy 5 nights a week and the two days he was at home he was usually studying at home or someone else's house. No, there wasn't a worry he was at her house, it was just hard to hear him talk about her.
Thankfully, something must have shown on my face because in that second week he was all over how much he couldn't wait for us to meet. It was probably a regret after it happened. The reason he was such quick friends with her was she and I are 2 peas in a pod when we hang out. LMAO
Why is this a hot topic for me?
First, I'm proud of the chick above I told you about. She's been there to help me through some rough times over the years. Able to give me a little view from the inside.
One of my best friend is a retired female firefighter. I dare you to tell her she wasn't competent on the job.
Then the biggest reason? Our daughter is now a firefighter. She's going to school to get her medic degree. While schools out for the summer she's working for the state as a wildland firefighter. She's gorgeous and I can see other women having that whole jealousy thing when she gets hired on in a structure dept.
We've raised her that she can't do anything half-assed and there's no way she's going to think she can be one of those girls that skates by doing the minimum. She was already competing to get a better time than her Dad and her FF uncles during her pack test.
What's your experience with female firefighters?