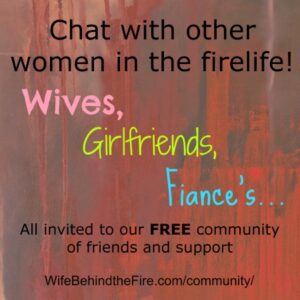 Wife behind the fire has more than one way to connect with others in the firelife. Both of them are different for very good reasons.
WBF's private community
The community here on the site is open to all women in the firelife. Girlfriends, fiance's, moms, wives and I'm not sure if I left out a genre there? lol
Everyone has different issues depending on their relationship status.  There are areas you can talk to others that may be going through the same thing or have tips that helped them through. If you are engaged there is sure to be talk about wedding plans in the engaged relationship forum 🙂
Of course, you can talk to everyone in all the cooking, crafting, diy, tv and many other areas as well. But, I've set up special spots for the more detailed relationship questions so you can look for support.
I have a two step process, so follow the easy instructions and get access quicker. Fill out the first form for community access HERE.
The community is free. All I ask is that you be respectful of those in the group and follow the simple rules posted.
Private facebook group for wives only
There are a lot of facebook groups for everyone in the fire community.
In fact I've listed some groups for everyone that you should check out.
However, there was nothing specifically for wives only. We needed our own place. Free from the drama that dating can bring. That's exactly what I created.
Do I hear complaints about it? Yes, people will do that even though there are plenty of other places for them to join. I've heard it's not fair. That I'm an elitist and so much other crap I can't even remember.
Guess what I hear more of? I hear thank you from 100's of wives for putting a place together that is only for us. Those are the women I created the private facebook group for.
If you're a wife looking to chat all day and night with other fire wives, put in a request to join the Wife Behind the Fire group and I'll message you.