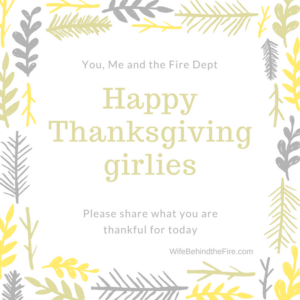 As my firefighter and I get older, we are thankful for more and more.  Our parents aren't getting any younger and our priorities have completely changed from what they were 10 years ago, hell even 5 years ago.
I'm glad we were already into the mode of a holiday being more than just about the date on the calendar before he was hired on. We can celebrate the spirit of the holiday no matter what date we end up actually meeting with family. However, this year we lucked out and the 4 day landed so we could come over to his Dad's and cook him dinner. Bringing the kids over to fill his house up with noise and hopefully drive him a little bit crazy while he picks on me. Ah, family!
I encourage you to stop for a few minutes and think about everything you are thankful. And I mean everything.
No thing or person you are thankful is too small. If possible, write it down and put the date on there. During the year if things get rough, pull it out. Next year, do the same thing. Create a brand new list and then compare them.
Here's some of mine:
I'm thankful, oh so thankful, that my father-in-law is feeling a lot better and we didn't lose him this year. Yes, it means he's a pain in the ass, but I wouldn't have it any other way 🙂
I'm thankful for both my healthy kids that are doing well in college.
I'm thankful for my firefighter that has been holding my hand through this crazy year full of major ups and major downs as we transition into the empty nest years. I wouldn't want to be laughing through my tears with anyone else.
I'm thankful for my firewives around the world that know my story and I know their's. When I'm going through something I can text and message any one of them up to help me work through something they've already gone through. I've spent many times crying long distance with you gals this year as you helped me.
I'm thankful I've come to a place in life where I'm truly more secure in who I am and who I am not. Life is a lot happier when you like yourself first.
I'm thankful for the firelife that gives us the odd schedule. We were made for this odd schedule. I enjoy the time alone on shift days and the 4 days that we can get in the car and go wherever we want or visit sick family members.
I'd love for you to share below some things you are thankful for.