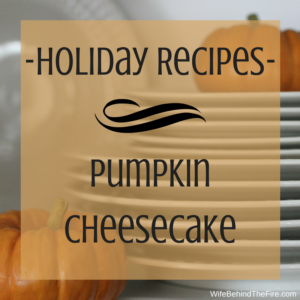 We are fast approaching the season of holiday parties, family gatherings and station functions. Most times, these events require us to bring a dish to share. I always sign up to bring a dessert. There's just something about baking that appeals to me more than cooking a side dish. When we think of holiday meals and desserts, pumpkin pie is usually one of the staples at every event. I'd like to share with you an amazing alternative to the traditional pumpkin dessert that is guaranteed to be a hit at your next gathering.
Sometimes it's nice to put a twist on traditional staples to add something different to the menu, while still being a comfort food. This pumpkin cheesecake is just that – a traditional pumpkin-flavored dessert, but also a refreshing change from the original pumpkin pie. It doesn't require much prep or baking time making it easy to whip up even on the morning of an event!
PUMPKIN CHEESECAKE
Ingredients
2 8-oz packages of softened cream cheese
1/2 cup of sugar
1/2 teaspoon vanilla
2 eggs
1 cup of canned pumpkin puree
1/2 teaspoon ground cinnamon
pinch of nutmeg
pinch of clove (optional)
1 graham cracker crust
Toppings
caramel sauce
crushed ginger snaps
-or-
Combine the cream cheese, sugar, and vanilla in a mixing bowl and mix until smooth. Add each egg one at a time, mixing until smooth before adding the next. Pour half the mixture into the graham cracker crust and spread it to cover the bottom. Add pumpkin, cinnamon, nutmeg and clove to the remaining mixture and mix until well combined. Pour mixture into the crust and spread to cover the first layer. Bake at 325* for 40-45 minutes. Let cool, then refrigerate for 3 hours.
Top with whipped cream. Or for a more adventurous dessert, top with crushed ginger snaps and caramel sauce!
Every time I bring this dessert to a party or meal, I always have a crowd of people begging me for the recipe. Now it's the usual request from most of my family and friends each year. I've learned to bring multiple cheesecakes each time because they go so fast. I recommend offering at least one with the ginger snaps and caramel sauce because it is simply amazing. I always bring one with just whipped cream as well for simpler tastes.
What is your go-to holiday dessert to bring? Do you prefer to make sides or desserts? What other kinds of holiday recipes would you like to add to your collection? Recipe sharing is always such a big hit!