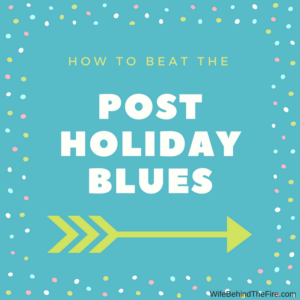 The holiday season is packed full of festive decorations, shopping trips, fun holiday parties and excitement leading up to the big day. We divulge in tons of heavy and often times sweet holiday treats, and in some cases stretch our wallets to the max with gifts, meals, and traveling expenses. It's no wonder that once the new year rolls around we start feeling deflated, overwhelmed and sometimes borderline depressed.  When you mix in gloomy winter weather that often leaves us cooped up in our homes, it all can create a recipe for disaster.
Anticipating this post-holiday letdown can be the first step in preventing it from creeping up on you. Being proactive allows you to stay ahead of the game. Here are a few ways to take control of your new year before the blues creep in.
Get Healthy
We all know the holiday season is scattered with work parties, family gatherings and treats dropped off by neighbors and friends. Many people take a break from counting calories and watching their usual healthy eating choices and allow themselves to enjoy their favorite meals and baked goods. A diet full of sugars and heavy meals is bound to catch up with you sooner or later. I know for myself it drastically affects my sleeping habits. Choosing healthy snacks and meals, and making sure to drink an adequate amount of water daily is one of the fastest ways to promote a better mindset – when you feel good physically, it's easy to have a positive outlook.
Purge the Clutter
If you have kids at home, this tip will be especially helpful. One thing that always caused me huge amounts of stress was what to do with all the new toys and gifts the kids received each year. When you have new toys and clothes spilling out of all corners of your home, it creates a lot of unneeded stress. As we put away holiday decorations and take down the tree, my children always spend an afternoon going through their room getting rid of broken toys, toys that are missing pieces, or ones they may have outgrown developmentally. I also take the time to go through their closets and get rid of any clothing that they may have outgrown or not wear anymore. Keeping their rooms and belongings under control helps eliminate your stress of nagging them to clean up their rooms and put things away they may leave around the house.
Get Out More
The worst thing you can do for yourself when you are feeling down or stressed is to seclude yourself. It may be easy to spend the winter months after the new year at home warm under your favorite blanket, but that does nothing for your mental health. If the weather allows, meet a friend for an afternoon walk. Set up a lunch date with a family member after your children return back to school. Allow yourself time to get out of the house and enjoy the fresh air and sunshine.
Set Goals
Give yourself something to look forward to, but don't allow it to take over your life. New Years Resolutions can cause unnecessary pressure in your life and get you down when you don't succeed. Setting goals for the new year gives you something positive to focus your energy on. It doesn't need to be something huge like going to the gym every day. Something simple like teaching yourself a new craft, trying a new recipe every week, or making more time for family outings are easy things to look forward to and attain.
Do you find yourself struggling with post-holiday blues? What are some things that you do to combat or prevent the letdown from creeping in? Start your year off right by keeping these healthy tips in mind if you find yourself feeling a bit depressed the next few weeks or months!