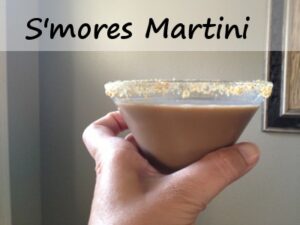 Ok, better late than never. I was trying to get a recipe posted so more people had time to buy ingredients.
We're going to have a virtual drink tomorrow, Saturday, while we chat in the group. I thought it would be fun to go with a s'more martini this first time since it's Trina's bday.
If you mix up this drink then please post your comments below and let me know how you liked it. I'll be trying it for the first time also and will get a picture posted after I make it. I'll be using almond milk instead of cream since I can't have the dairy.
Join us in the facebook group or fanpage while we gals chill out with a sweet drink! No time in particular because we're all in different time zones.
S'mores Martini
Author:
Prep time:
Total time:
Ingredients
2 ounces marshmallow vodka
2 ounces Godiva chocolate liqueur
1/2-1 ounce cream, depending on if alcohol flavor is too strong for you
1 graham cracker, finely crushed
Mini Marshmallows
Instructions
Put crushed graham cracker onto small plate, just a little larger than your martini glass.
You can use water or some of the chocolate liqueur to lightly add liquid around rim of glass.
Twirl rim of glass in graham crackers to lightly coat and set aside.
Put 4-5 ice cubes into shaker.
Add alcohol's in and shake to mix.
Pour into martini glass.
Top with a few mini marshmallows to garnish.