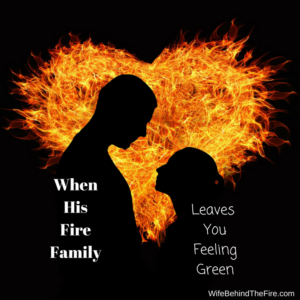 When your firefighter spends half his week at the station, sometimes it can be easy to let the negative feelings creep in. He is not just spending eight hours each work day with his fire family on shift, he is spending an entire 24 hours with them. They eat together, socialize between calls, and lean on each other during some of their most stressful moments. It is very easy for the wife at home to feel like she has taken a back seat to that family, even if this is not his intention at all. Being the one who stays at home and manages the home and quite possibly the children too can take a toll on a firewife, causing her to resent those people who get so much of her husband's time.
Here are a few ways to help cope when those jealous feelings arise.
Spend some time at the station.
Why would you want to spend time with those very people who are stealing all your time with your firefighter? By spending time at the station, you will remember just why your firefighter is so close with his brothers and sisters at the station. They are truly awesome people! Bake some goodies and drop them off during a short visit or schedule a night with your firefighter to come join them at the station for dinner – not only will you get to spend some extra time with your firefighter (fingers crossed the tones do not drop!), but you will see that there is no distinguishing line between his home family and his fire family. The brotherhood doesn't stop when they walk out the door at the end of a shift, their families are an extension of their bond – the welcome you in and make you feel right at home.
Communicate with your firefighter.
Men are not as intuitive as women, so if you are dropping hints that you think he should be picking up on, you are only going to add fuel to your own fire. Sit down with him and express your concerns: is the issue that he works many hours and you miss him and need to schedule a date night or one on one time, does he spend time with his fellow firefighters even when he's off shift leaving little family time? Sit down and have a respectful conversation laying out your concerns and needs. Communication issues tend to be one of the biggest issues in fire marriages, so work together to find a good compromise between station time and home time. Sometimes this includes backing off of picking up overtime and covering extra shifts for a while to allow for family time. Only the two of you know what will work for your family – talk it out.
Is there a reason he's not engaging at home?
If your firefighter is having a tough time engaging when he's at home or if he seems to be avoiding spending his usual amount of time at home, something may be going on with him. Perhaps he had a close call on a fire or ran a tough call on the ambulance. He may be having a hard time processing and doesn't want to worry you or doesn't know how to reach out for help. Let him know you are here for him if he needs to talk about anything, or that you can help him find someone productive to vent to. Men tend to shut down when they have a lot going on. Your firefighter may desperately want to be a part of your family dynamic, but he may be carrying an extra heavy load.
Don't feel alone if you find yourself being jealous of his station family. Most firewives find themselves there at some point. It's how you handle the situation that makes a world of difference. If you let these feelings bottle up inside and stew over them, it won't solve anything. You will find yourself resenting your firefighter and sometimes those scary feelings are hard to come back from. Work together to communicate through your issues – let him know how you are feeling, and be there for him to listen to his concerns.
Have these feelings ever crept in for you? What worked best for you and your firefighter to come to a resolution?