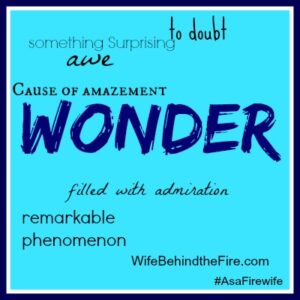 Stop right now and look at the wonders around you. Right this second you are surrounded by many wonders.
Hell, you are reading this from a website that is going across the world. That's a wonder to me.
My firefighter goes on horrific calls and it makes me wonder how he can put it aside and enjoy family time.
I guess I shouldn't wonder so much about that since I've listened to a lot of his horrific calls and I put them aside as well. I just don't have near the amount of calls in my head that he does.
I wonder how some of his calls turn out so great, yet others in the same circumstances are tragic.
Do you have kids, furbabies and/or close family? Then I hope you wonder how you could be so lucky or so blessed to have those things driving you crazy in your life.
What is bringing you wonder today?