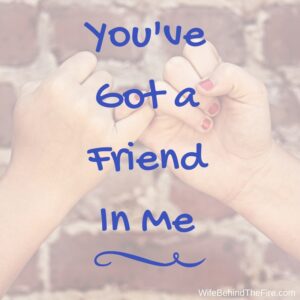 Life as a firewife can be full of ups and downs. There are many perks of being a firewife – his schedule allows him to be home for a few days in a row during the week, you can plan things months in advance with his set duty schedule, and you have a built-in support system of other wives who know just what you are going through. It can be hard for others who do not live the firelife to understand just what goes into living this lifestyle even if they are close friends or family. Fellow firewives are living with similar challenges and emotions you are, reaching out to them and building a safety net within each other can be hugely beneficial.
These women understand what you are going through.
When your husband calls and says he's been pulled for overtime, they've been there. When there's still 16 hours left in his shift and both kids start throwing up and running fevers, they've probably been there too. They also understand just how Murphy's Law shows up on shift days too. When things get tough, your fellow firewives are an amazing asset. They may be able to run a kid to school for you if you have one home sick. They may offer their laundry room when your washer finally gives up. Most importantly they can be there simply for emotional support and a shoulder to lean on when you are stressed.
Reach out.
If you aren't already friends with some fellow firewives, reach out! I've found attending fundraisers is a great way to meet other families from our station. Most fire families attend fundraiser breakfasts or dinners put on by the station. It's an easy way to meet a lot of your husband's brothers as well as their family. When we were newer to the lifestyle I met many other wives this way.
Another good way to meet other wives would be to ask your husband who his friends are at the station and if they have wives and families too. Have them over for a barbeque or invite them to your next kid's birthday party. Our kids get to hang out together and get to know each other while the adults can converse and relax. An informal dinner at your house or out at a favorite restaurant is a good idea too. It's a little less intimidating and more one on one this way. Some of the wives that I'm closest with were met this way.
Of course, you may not mesh with other wives at your station. You may be the only wife with kids, while the rest of the station is newly married. Or personalities may not click that well. If you find yourself in that boat an online resource may be helpful to you. Sometimes it's nice to have a community of women right at your fingertips any time of the day or night. I have a resource group for firewives on Facebook. The Wife Behind the Fire group is full of women who are very supportive and helpful. We have women from all walks of the fire life – volunteer wives, career wives, wildland wives. Some wives are brand new, while others are seasoned and can offer amazing advice.
No matter which route you take to seek out friends in the firewife community, it's important to have the support of firewives in your life. Just like your husband's firefighter brothers have his back, the same principal spills over into family life. Fivewives are a special group of women – we put up with a lot of stress, crazy schedules and the demands of running a household and family on our own for sometimes days on end. We get it. When you have been fighting off the punches from the time your feet hit the floor in the morning and you just need to vent, a firewife is always going to understand.