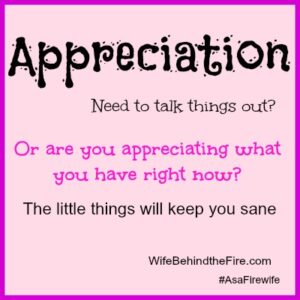 Hey, it's still summer so I won't make any excuses why I missed a couple of days of posting these lol
If you have words I should add to the mix, please feel free to let me know.
I'm a firm believer in showing appreciation for the little things daily. So much garbage goes on in the average life, let alone adding on the topics we deal with as a firewife. In order to stay sane you need to find those little things. It's why I require that balance in our fb groups.
The big one we all can agree on is showing appreciation that they made it home to us. Not that it needs to be a sappy event each time. I'd say it's more of a letting down of the guard and relaxing the shoulders…along with some major appreciation if it's been an especially rough shift 😉
As I've gotten older it's gotten easier for me to show  my appreciation and recognize things that make me happier.
I appreciate all the help I'm getting with this site and the ideas that flow freely from our 100's of members. I will always appreciate being able to get on the group any time and any day and chat with another firewife. Whether I need to vent something out or take my mind off some bad stuff and laugh.
I appreciate and will always appreciate him getting hired on to the job he always wanted. We had no idea that life would get crazy when it happened, but I appreciate the ride!
Are you in appreciation mode or do you need some help talking about things and working into some appreciation?