If you have not read the first two installments of Honoring a Hero please read Part 1 and Part 2 of Beth's story first. 
If you know me, then you know that I am very verbose and words rarely fail me.  As I have sat staring at this blank screen for the last several days, I cant find the words to adequately express what the two memorials meant to me.
How do you convey that you fell so head over heels for a fire family, simply because they showed you an enormous amount of kindness?  How do you convey that a fire department with over 1,000 members made you feel like family?  How do you convey that you heard Amazing Grace on the bag pipes twice and your heart broke further each time?  How do you convey that every name on both of the memorials is someone who is loved and who left us doing something they love?
I imagined that sitting at the MFD memorial and honoring my Grandpa would be easy.  It was everything but.  I spent most of the event in tears…. tears of honor for all the fallen, especially Grandpa.  Tears of fear of losing the man that was standing beside me and saluting.  Tears of worry that I would be standing beside a fellow wife, supporting her as she was handed a flag…. it was overwhelming.  Too many emotions hit me repeatedly through out the day.
The MFD Brass treated us with the utmost dignity and respect.  I was in awe… my FF and I walked away knowing that when he grows and becomes Chief of a department, that is how he wants to be.  We were treated like a member of the department by everyone we met.  They live and walk the fire family life.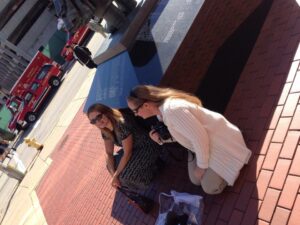 Then there was Trina and her family…. this is where words fail me the most.  Thank you is not near enough.  Trina and her FF spent the entire day with us on Wednesday and would have done more.  Trina captured moments on film that I never want to forget, without me having to ask.  She caught the moment I got pictures of grandpa from a retired Lt. and the moment I saw his name on the memorial.
Most importantly, Trina, her FF and another fire wife stood beside me in solidarity…. quiet strength lent, again without me having to ask.
The MFD memorial was extremely beautiful and engraved in my soul.  Deeply.  Grandpa joined 21 other names that were missed and I was there to hear his name read by a cub.  When the memorial was over, I took a deep breath and steeled myself for the state memorial in two days.
To be continued…. (one more part)