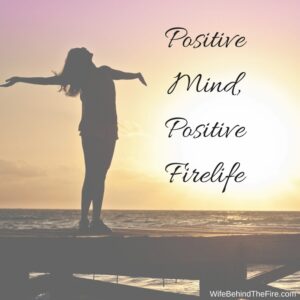 Talk to any seasoned firewife and I can almost ensure she can rattle off a laundry list of negatives when it comes to living the firelife. What fun is basking in the negativity? You get from a situation what you make of it. This is why I always encourage firewives to remember the positives. What fun is it to constantly dwell on the bad? I promise you will get so much more out of being a firewife if you keep yourself in a positive mindset and look for all the wonderful things this lifestyle brings to the table.
We learn to be flexible as a family.
My children and I have come to learn quickly that just because our firefighter's shift ends at 7am does not mean he will be off and on his way home to us. Overtime is a regular occurrence in the firelife, and it can happen a lot. You have no control over his work schedule. I love that being a fire family has taught us to give up that control and accept being flexible. He may have a shift day that falls on a child's birthday, and that's okay! It makes life so much easier when you realize it is about making the time to be together as a family when you can and enjoy those moments when you can.
You belong to a whole community of amazing people!
Whether it's the amazing men and women that make up your firefighter's department and their families or a group of fellow firewives in an online community, there are tons of people living the same lifestyle you are and they GET IT. Their husbands work the same schedules. Those firefighters understand what it's like to be away from their families when there are emergencies at home. Wives are there to vent and listen, fellow firefighters are always willing to lend a hand around the house when your husband has a project come up. The sense of community and family that comes along with living the firelife is just amazing. You won't find many other occupations where you have this awesome benefit built in.
Me time.
I know I talk about this a lot, but it's really true! In the beginning, shift days can be very lonely and daunting. Once you get settled into the fire lifestyle, you come to understand how important those nights can be to your sanity. I have friends who are not firewives who have a hard time going out with their girlfriends and leaving their husbands at home after long work weeks and little time together. Shift days give firewives the opportunity to go out with friends without compromising time with husbands. Shift days allow you to eat junk food for dinner, sleep in the middle of the bed and wrap up in the whole blanket yourself. Adjust the way you look at shift days and realize all the freedoms it allows you! Making the most of those days and nights allows for you to recharge mentally and time passes so quickly!
Positive breeds positive. Once you start appreciating all the good things you experience in the firelife, it will be harder and harder for you to see the negatives. When you do stumble across a negative situation, challenge yourself to dig deeper and turn it into a positive. Being a firewife has it's own unique set of positives, as well as drawbacks. Again, I will never get tired of saying that YOU control what you get out of a situation. Whether you are a full-time, volunteer or wildland wife, the ride can be wild – don't forget to enjoy it along the way!
Living with no regrets,
PS – need a boost working on your happiness? Join us in the FireWife Club. Monthly challenges and a small private group on Facebook.